Massage Therapy
Always our most requested service
The health benefits of frequent massage includes stress relief and improved circulation, which enhances the flow of nutrients to all cells of the body. Lay back and allow our team of licensed massage therapists to pamper you.
Swedish Massage
A combination of various movements including affleurage, petrissage and friction to help loosen tired and sore muscles. This form of massage will help increase circulation which promotes the body's own healing process. Swedish massage is perfect for stress reduction and deep relaxation.
Deep Tissue
A careful application of deep pressure and cross fiber friction to alleviate painful muscle spasms and initiate the breakdown of "knots".
Trigger Point
Therapeutic pressure applied to sensitive areas of the muscle called "trigger points" that contribute to the spasm-pain-spasm cycle. This treatment is combined with stretching movements and Swedish strokes to eliminate acute and chronic pain.
Hot Stone Therapy
Incredibly smooth hot basalt stones deeply penetrate and loosen tight muscles. Cool, polished marble stones increase circulation and relieve inflammation. Experience this healing and nurturing form of bodywork for yourself.
Prenatal Massage
Massage that incorporates long Swedish strokes for your entire body. This massage is done while lying on your side to ensure your total comfort. Leave feeling relaxed and renewed.
This massage therapy is appropriate after the first trimester.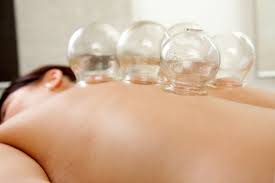 Cupping Massage
Cupping is one of the best deep-tissue therapies available, and is much like the inverse of massage-rather than applying pressure to muscles, it uses gentle pressure to pull them upward. For most patients, this is a particularly relaxing and relieving sensation. Cupping is used to relieve back and neck pains, muscle stiffness.
Is cupping safe and appropriate for me?
While cupping is considered relatively safe it may cause some swelling and bruising on the skin. As the skin under the cup is drawn up, the blood vessels at the surface of the skin expand. This may result in small, circular bruises on the areas where the cups were applied. These bruises are usually painless and disappear within a few days of treatment.
There are a few instances where cupping should not be performed. Those who have inflamed skin, cases of high fever or convulsions and those who bleed easily are not suitable for cupping. Pregnant women should not have cupping on their stomach or lower back.